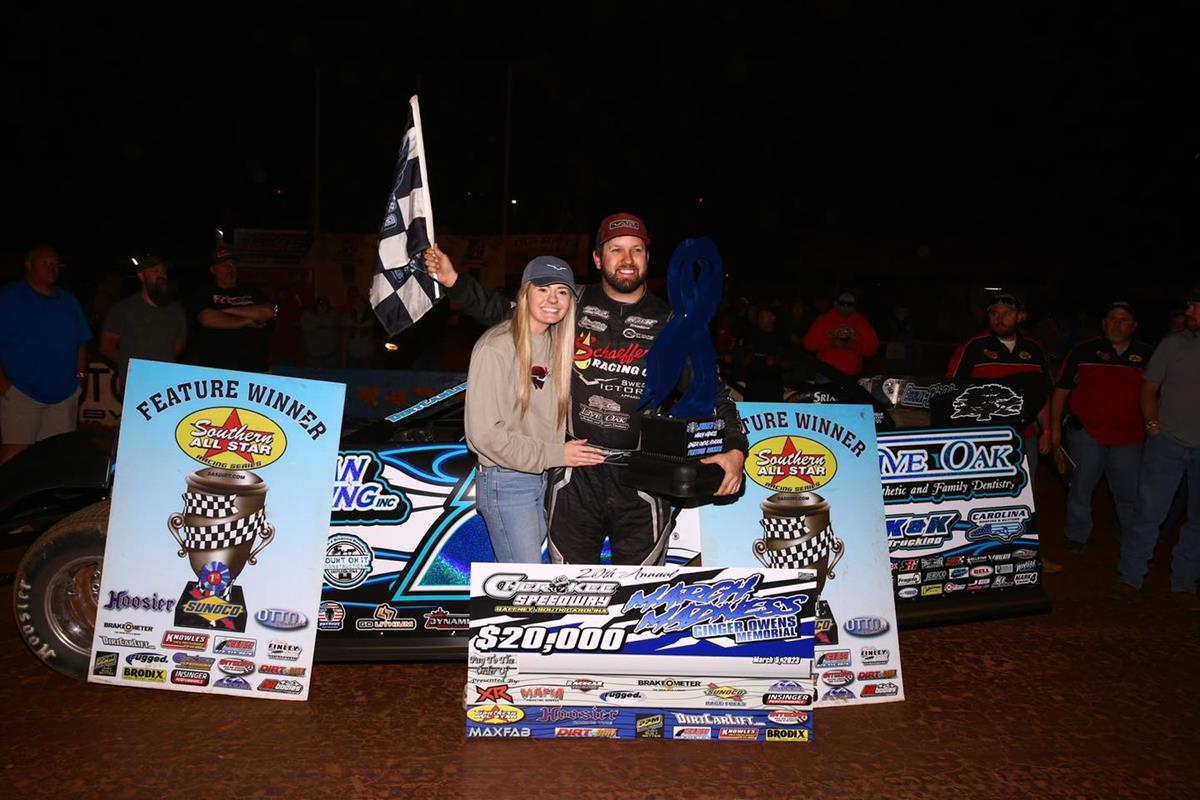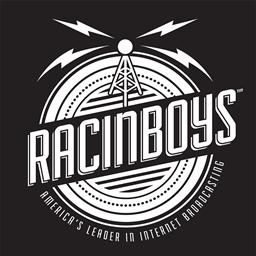 ---
Chris Ferguson tames Cherokee Speedway
(Gaffney, SC) -- Chris Ferguson inherited the lead with 14 laps remaining to win the Ginger Owens Memorial March Madness Sunday afternoon at Cherokee Speedway. Freguson, who collected $20,000 for the win, took over the point when race long leader Mike Marlar pulled off with a flat tire.
Chris Madden and Brandon Overton got into each other out of turn four on one of the many lap 36 restarts which led to the two scuffling and exchanging words in the front straight pits in fron of the massive crowd in attendance.
Carson Ferguson was second and Caleb Gray wound up third in the Southern All Stars sanctioned event.
SUNDAY RESULULTS
SUPER LATE MODELS
A Feature (50 Laps): 1. 22-Chris Ferguson[5]; 2. 93-Carson Ferguson[11]; 3. XJR-Caleb Gay[25]; 4. 6-Dillon Brown[14]; 5. 19R-Ryan Gustin[29]; 6. 8-Kyle Strickler[9]; 7. 89-Logan Roberson[6]; 8. 88-Trent Ivey[4]; 9. 57-Zack Mitchell[8]; 10. 2X-John Henderson[21]; 11. 79-Ross Bailes[18]; 12. 24D-Michael Brown[1]; 13. 20H-Bryson Harper[17]; 14. 17-Billy Franklin[22]; 15. 55-Benji Hicks[20]; 16. 18D-Daulton Wilson[24]; 17. 42-Cla Knight[12]; 18. 20-Jimmy Owens[16]; 19. 157-Mike Marlar[2]; 20. 44-Chris Madden[3]; 21. 76-Brandon Overton[7]; 22. 70-Jeff Smith[15]; 23. 174-Ethan Dotson[13]; 24. B00-Josh Henry[23]; 25. 2K-Austin Kirkpatrick[10]; 26. P4-John Price[28]; 27. 421-Anthony Sanders[19]; 28. 2-Dennis Franklin[27]
Heat 1 (10 Laps): 1. 24D-Michael Brown[1]; 2. 22-Chris Ferguson[2]; 3. 8-Kyle Strickler[3]; 4. 174-Ethan Dotson[6]; 5. 20H-Bryson Harper[5]; 6. 2X-John Henderson[4]; 7. XJR-Caleb Gay[8]; 8. 19R-Ryan Gustin[7]
Heat 2 (10 Laps): 1. 157-Mike Marlar[1]; 2. 89-Logan Roberson[3]; 3. 2K-Austin Kirkpatrick[4]; 4. 6-Dillon Brown[2]; 5. 79-Ross Bailes[5]; 6. 17-Billy Franklin[6]; 7. X75-Dan Cox[7]
Heat 3 (10 Laps): 1. 44-Chris Madden[2]; 2. 76-Brandon Overton[1]; 3. 93-Carson Ferguson[3]; 4. 70-Jeff Smith[4]; 5. 421-Anthony Sanders[5]; 6. B00-Josh Henry[6]; 7. 2-Dennis Franklin[7]
Heat 4 (10 Laps): 1. 88-Trent Ivey[2]; 2. 57-Zack Mitchell[1]; 3. 42-Cla Knight[4]; 4. 20-Jimmy Owens[3]; 5. 55-Benji Hicks[5]; 6. 18D-Daulton Wilson[6]; 7. P4-John Price[7]
Qualifying: 1. 24D-Michael Brown, 00:15.994[9]; 2. 76-Brandon Overton, 00:16.013[15]; 3. 22-Chris Ferguson, 00:16.049[5]; 4. 44-Chris Madden, 00:16.186[4]; 5. 8-Kyle Strickler, 00:16.210[14]; 6. 93-Carson Ferguson, 00:16.307[8]; 7. 2X-John Henderson, 00:16.354[11]; 8. 70-Jeff Smith, 00:16.443[10]; 9. 20H-Bryson Harper, 00:16.477[3]; 10. 421-Anthony Sanders, 00:16.515[2]; 11. 174-Ethan Dotson, 00:16.610[1]; 12. B00-Josh Henry, 00:16.685[12]; 13. 19R-Ryan Gustin, 00:16.808[7]; 14. 2-Dennis Franklin, 00:16.810[6]; 15. XJR-Caleb Gay, 00:17.121[13]
Qualifying 2: 1. 157-Mike Marlar, 00:15.703[9]; 2. 57-Zack Mitchell, 00:16.007[3]; 3. 6-Dillon Brown, 00:16.139[1]; 4. 88-Trent Ivey, 00:16.267[2]; 5. 89-Logan Roberson, 00:16.328[7]; 6. 20-Jimmy Owens, 00:16.431[5]; 7. 2K-Austin Kirkpatrick, 00:16.491[6]; 8. 42-Cla Knight, 00:16.551[10]; 9. 79-Ross Bailes, 00:16.686[4]; 10. 55-Benji Hicks, 00:16.716[12]; 11. 17-Billy Franklin, 00:16.745[14]; 12. 18D-Daulton Wilson, 00:16.784[8]; 13. X75-Dan Cox, 00:17.299[11]; 14. P4-John Price, 00:17.423[13]
Hot Laps: 1. 19R-Ryan Gustin, 00:15.937[7]; 2. 22-Chris Ferguson, 00:15.944[5]; 3. 76-Brandon Overton, 00:16.005[15]; 4. 174-Ethan Dotson, 00:16.107[1]; 5. 18D-Daulton Wilson, 00:16.154[23]; 6. 44-Chris Madden, 00:16.218[4]; 7. 2X-John Henderson, 00:16.286[11]; 8. 93-Carson Ferguson, 00:16.332[8]; 9. 421-Anthony Sanders, 00:16.339[2]; 10. 157-Mike Marlar, 00:16.396[24]; 11. 24D-Michael Brown, 00:16.397[9]; 12. 2K-Austin Kirkpatrick, 00:16.480[21]; 13. 89-Logan Roberson, 00:16.509[22]; 14. B00-Josh Henry, 00:16.511[12]; 15. 42-Cla Knight, 00:16.527[25]; 16. 57-Zack Mitchell, 00:16.586[18]; 17. 70-Jeff Smith, 00:16.622[10]; 18. 8-Kyle Strickler, 00:16.622[14]; 19. 17-Billy Franklin, 00:16.641[29]; 20. 20H-Bryson Harper, 00:16.647[3]; 21. 6-Dillon Brown, 00:16.666[16]; 22. 88-Trent Ivey, 00:16.687[17]; 23. 20-Jimmy Owens, 00:16.784[20]; 24. 79-Ross Bailes, 00:16.787[19]; 25. P4-John Price, 00:16.911[28]; 26. 2-Dennis Franklin, 00:16.952[6]; 27. 55-Benji Hicks, 00:17.138[27]; 28. XJR-Caleb Gay, 00:17.251[13]; 29. X75-Dan Cox, 00:18.455[26]
---
Submitted By: Kirk Elliott
Back to News