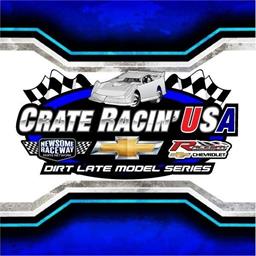 6/8/2021
Crate Racin' USA Dirt Late Model Series
---
Tech Bulletin for Cherokee Speedway "Tomahawk Tussle" June 11th and 12th
Eastaboga, AL - Crate Racin' USA Officials are releasing the following updates for the June 11th and 12th Crate Racin' USA Dirt Late Model Series/E-Z-GO Challenge Series event at Cherokee Speedway in Gaffney, South Carolina.
The tire rule for the weekend will be as follows:
Hoosier Racing Tire Crate Racin' USA D21 and D55 or HTS 1350 and HTS 1600. Grooving and siping allowed.
ALL Feature starting cars MUST start the feature event on the following tire:
Hoosier 92.0/11.0-15 Spec D70. Tire will be available to FEATURE starting cars at the track on Saturday. No grooving or siping allowed on the D70 feature tire.
The following tires are NOT allowed:
92.0/11.0-15 Spec W70
11.0/29.0-15 NRMW D70
Also, the Feature event will be 100 laps, with a competition fuel stop. The fuel stop will be handled as follows: if a caution flag waves between lap 40 and 50, the fuel stop will take place at that time. If no caution is waved by lap 50, officials will display the caution flap on lap 50 and the stop will take place at that time. Fuel stop rules will be two crew members allowed on the front straightaway and the stop will be FUEL ONLY!
We appreciate everyone's commitment to come race with us at "The Place Your Mama Warned You About" and we are excited to see you all this weekend.
---
Submitted By: Adam Stewart
Back to News