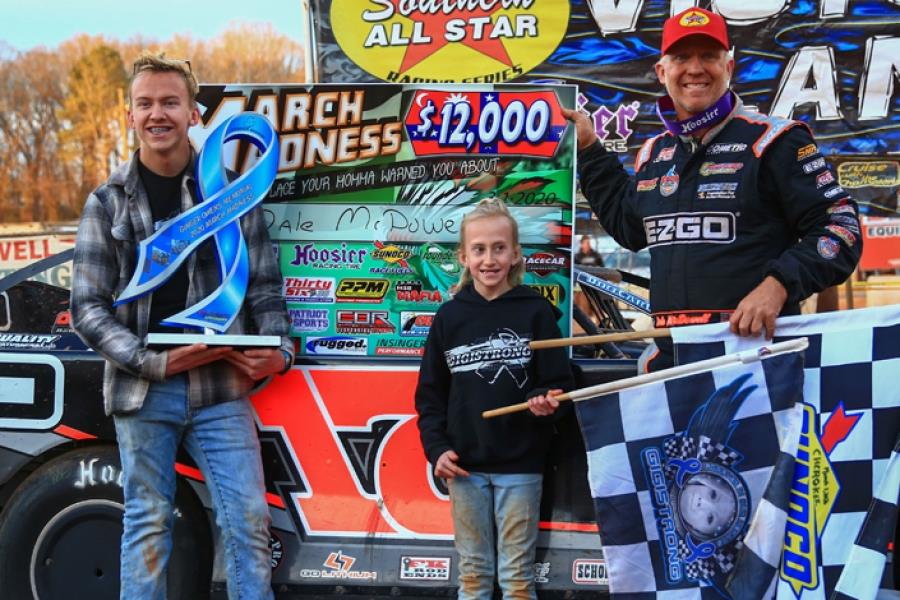 ---
McDowell grabs first win of the season at Cherokee Speedway
Dale McDowell banked his first win of the season on Sunday afternoon in his Shane McDowell Racing/ E-Z-GO No. 17m Kinzer Drilling/ Quality Natural Gas/ Team Zero Race Cars/ Clements Racing Engine Super Late Model.
The Dirt Late Model Hall of Famer raced to a $12,000 victory in the Ginger Owens Memorial March Madness XVIII at Cherokee Speedway in Gaffney, S.C. The event was sanctioned by the Southern All Star (SAS) Racing Series.
"It was great to win this race … for Ginger [Owens] and [son] Jay, [daughter] Jaycee and their dad [Jason Owens], for everybody," McDowell said. "She was a solid supporter. She was awesome, an awesome person and put on an awesome fight. So, very honored to win this race. She fought hard with cancer."
"I lost my stepdad a couple days ago, so this wins for him," McDowell added. "Shane and I wouldn't be here if it wasn't for Joe Dover and his support and his sons Mack and Randy. He supported us back in the '80's when I ran some ARCA races. And then he and my mom got married and was married for, I don't know, 20-something years. He was just really supportive."
On Sunday, Dale followed up the fastest time overall in qualifying with a 10-lap heat race victory. Jumping to the lead at the drop of the green flag in the feature, McDowell led wire-to-wire to the win over Michael Brown, Jonathan Davenport, Casey Roberts, and Chris Madden. (ZSK Photography)
Surviving a mid-race challenge after getting caught behind lapped-traffic, McDowell edged Brown by 0.225 seconds at the finish line to pocket the $12,000 payday.
Sunday marked the first time McDowell had competed in the annual event since 2014. McDowell's last victory at Cherokee Speedway was on July 3, 2012, where he also led flag-to-flag to pocket $5,000. Dale credited his Team Zero Race Car and his brother Shane for finally ending his March Madness skid.
"These cars are on point. My brother tweaks and does that stuff, so he had [the car] good enough that I couldn't even mess it up today," said McDowell. "It was awesome to win here. I hadn't been here in a while. It was just one of them deals where, when we come back here, we just needed a good qualifying effort and that worked out for us."
Earlier in the weekend, McDowell visited Modoc (S.C.) Raceway, entering the Drydene Xtreme DIRTcar Series finale. After starting 19th on the grid for the $7,000-to-win A-Main, McDowell improved ten spots in the 40-lap affair to register a ninth-place finish.
Back to News