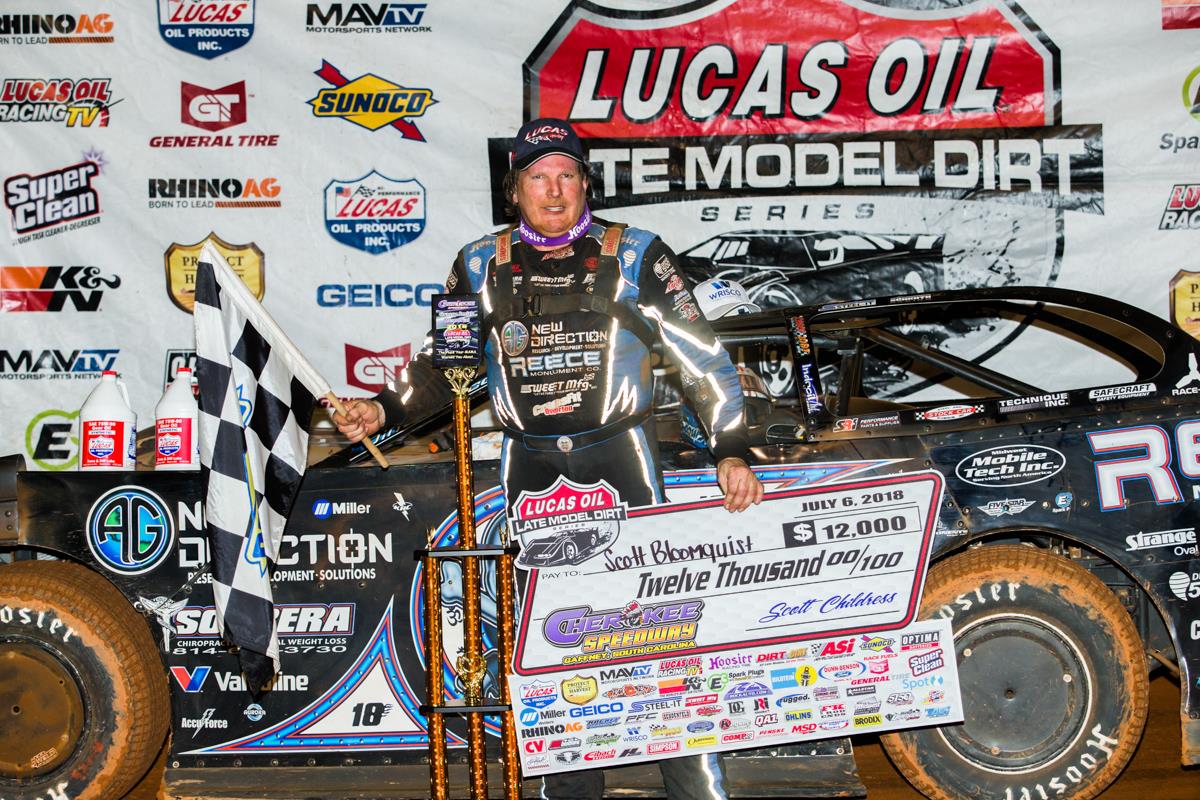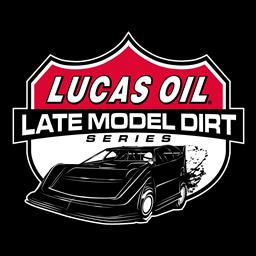 7/6/2018
Lucas Oil Late Model Dirt Series
---
Bloomquist Wins from Seventh at Cherokee
GAFFNEY, S.C. (July 6, 2018) – Scott Bloomquist wheeled his way into Victory Lane for the fifth time this season during the Lucas Oil Late Model Dirt Series, 20th Annual Grassy Smith Memorial, at Cherokee Speedway.
Bloomquist took the lead on lap 31 from Josh Richards and then held off a charging Brandon Overton in the final laps to score his 599th career victory. Overton came home in second followed by Josh Richards, Don O'Neal, and Dennis Erb Jr.
Hudson O'Neal led the opening lap from his outside front-row starting spot. Richards took over the point on the second lap and then led until Bloomquist forged ahead on lap 31.
In Lucas Oil Victory Lane, Blomquist was complimentary of the track conditions and the enormous crowd on hand. "We were good on the restarts and that helped. This is probably the best shape I have ever seen this track in. We could run low, middle, or the top. We went to the top there towards the end and I think that helped us out a lot. The top was the place to be especially getting around those lapped cars."
Overton was pleased with his podium finish. "I can't thank Billy Franklin enough. Without him I wouldn't be here. As the race went on we got stronger. That was a heck of a race up front there. I thought maybe I could catch Scott [Bloomquist] there at the end. He changed his line and that was the line I was more comfortable with coming up thru there. All-in-all it was a good race and we look forward to heading to Smoky Mountain tomorrow night."
Richards, piloting the Best Performance Motorsports, Colt Firearms, Rocket, commented on his third-place finish. "Congratulations to Scott [Bloomquist] on the win. We had a real good race car. We are running more consistent now. Hudson was good early and then we got the lead. I tried to hold them off for as long a possible. Those cautions kind of hurt me a little because we had some good momentum built up"
The winner's Sweet-Bloomquist car is powered by a Durham Racing Engine and sponsored by: New Direction Ag, Reece Monument Company, CatSpot, Sweet Manufacturing, Sorbera Chiropractic, Penske Shocks, Valvoline, Crossfit by Overton, Petroff Towing, and Horton Coal.
Completing the top ten were Dennis Franklin, Darrell Lanigan, Jimmy Owens, Earl Pearson Jr., and Gregg Satterlee.
Lucas Oil Late Model Dirt Series
Race Summary
Friday, July 6, 2018
20th Annual Grassy Smith Memorial
Cherokee Speedway – Gaffney, S.C.
Miller Welders Time Trials
Fast Time Group A: Josh Richards / 15.061 seconds (overall)
Fast Time Group B: Hudson O'Neal / 15.212 seconds
Eibach Springs Heat Race #1 Finish (10 Laps, Top 4 Transfer): Josh Richards, Bobby Pierce, Kyle Pierce, Brandon Overton, Earl Pearson, Jr., Tim McCreadie, Benji Hicks, Johnny Pursley-DNS
FK Rod Ends Heat Race #2 Finish (10 Laps, Top 4 Transfer): Dennis Erb, Jr., Scott Bloomquist, Ross Bailes, Tyler Millwood, Joey Coulter, Brent Dixon, Michael Brown
Simpson Performance Products Heat Race #3 Finish (10 Laps, Top 4 Transfer): Hudson O'Neal, Dennis Franklin, Jonathan Davenport, Darrell Lanigan, Donald Bradsher, Brett Hamm, Jim McNamara, Jimmy Owens
QA1 Heat Race #4 Finish (10 Laps, Top 4 Transfer): Don O'Neal, Gregg Satterlee, Jeff Smith, Kyle Bronson, Mason Zeigler, Zach Cox, Justin Williams
Penske Racing Shocks B-Main Finish (12 Laps, Top 6 Transfer): Earl Pearson, Jr., Donald Bradsher, Johnny Pursley, Joey Coulter, Benji Hicks, Justin Williams, Mason Zeigler, Jim McNamara, Tim McCreadie, Brett Hamm-DNS, Brent Dixon-DNS, Michael Brown-DNS, Zach Cox-DNS, Jimmy Owens-DNS
Lucas Oil Feature Finish (50 Laps):
FINISH START CAR # DRIVER NAME HOMETOWN EARNINGS
1 7 0 Scott Bloomquist Mooresburg, TN $12,800
2 13 76 Brandon Overton Evans, GA $5,500
3 1 1R Josh Richards Shinnston, WV $4,600
4 4 5 Don O'Neal Martinsville, IN $3,550
5 3 28 Dennis Erb, Jr. Carpentersville, IL $2,250
6 6 2F Dennis Franklin Gaffney, SC $1,800
7 14 14 Darrell Lanigan Union, KY $2,200
8 24 20 Jimmy Owens Newport, TN $2,100
9 17 1 Earl Pearson, Jr. Jacksonville, FL $2,000
10 8 22 Gregg Satterlee Indiana, PA $1,800
11 11 87 Ross Bailes Clover, SC $1,075
12 25 25Z Mason Zeigler ® Chalk Hill, PA $1,850
13 16 40B Kyle Bronson ® Brandon, FL $1,025
14 10 49 Jonathan Davenport Blairsville, GA $1,900
15 23 39 Tim McCreadie Watertown, NY $1,700
16 20 2C Joey Coulter Troutman, NC $1,000
17 22 89 Justin Williams Concord, VA $1,000
18 12 00 Jeff Smith Bessemer City, NC $1,000
19 9 281 Kyle Pierce Statesville, NC $1,000
20 2 71 Hudson O'Neal Martinsville, IN $1,700
21 18 93 Donald Bradsher Burlington, NC $1,000
22 21 55 Benji Hicks Mt. Airy, NC $1,000
23 19 09 Johnny Pursley Clover, SC $1,000
24 15 31T Tyler Millwood Kingston, GA $1,000
25 5 32 Bobby Pierce Oakwood, IL $1,700
Race Statistics
Entrants: 30
Lap Leaders: Hudson O'Neal (Lap 1); Josh Richards (Laps 2 – 30); Scott Bloomquist (Laps 31 –
Wrisco Feature Winner: Scott Bloomquist
Margin of Victory: 0.570 seconds
Cautions: Bobby Pierce (Lap 2); Debris (Lap 7); Tyler Millwood (Lap 11); Benji Hicks (Lap 31); Jonathan Davenport (Lap37); Hudson O'Neal, Joey Coulter, Jeff Smith, Justin Williams, Kyle Pierce (Lap 37)
Series Provisionals: Tim McCreadie, Jimmy Owens
Series Emergency Provisionals: Mason Zeigler
Optima Batteries Hard Charger of the Race: Jimmy Owens (Advanced 16 Positions)
Midwest Sheet Metal Spoiler Challenge Point Leader: Jonathan Davenport
Allstar Performance Power Move of the Race: Earl Pearson Jr.
Sunoco Race for Gas Highest Finisher: Josh Richards
Hot Rod Processing Rookie of the Race: Mason Zeigler
COMP Cams Engine Builder of the Race: Durham Racing Engines
Ohlins Shocks Chassis Builder of the Race: Sweet-Bloomquist Race Cars
Outerwears Crew Chief of the Race: Cody Mallory (Scott Bloomquist)
Fastest Lap of the Race: Josh Richards (Lap #12 – 15.6442 seconds)
STEEL-IT Most Laps Led: Josh Richards (29 Laps)
Dirty Girl Racewear Farthest Traveler: Tim McCreadie
PFC Brakes Pole Award: Josh Richards
Time of Race: 29 minutes 38 seconds
---
Submitted By: Jeremy Shields
Back to News