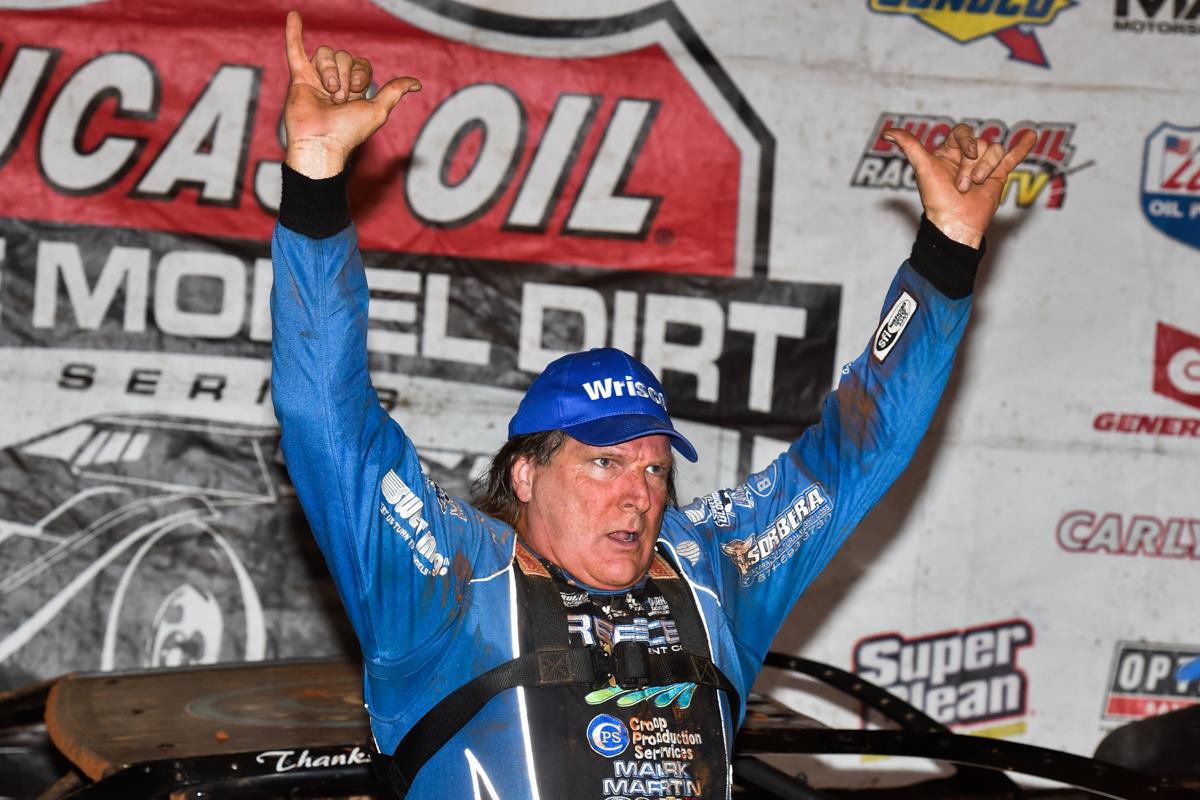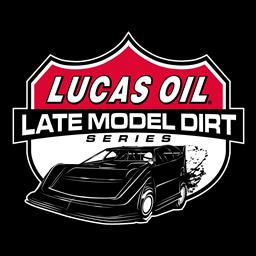 7/8/2016
Lucas Oil Late Model Dirt Series
---
Bloomquist Takes Grassy Smith Memorial at Cherokee Speedway
GAFFNEY, SC (July 8, 2016) – Scott Bloomquist won his third straight Lucas Oil Late Model Dirt Series event on Friday Night at Cherokee Speedway by leading all but one lap of the main event. After a 4-hour rain delay, the standing room only crowd saw Bloomquist take the win in the Grassy Smith Memorial, also marking his 70th career LOLMDS win.
Casey Roberts came home in second, followed by Johnny Pursley, Brandon Sheppard, and 18th-starting Jonathan Davenport.
Chris Madden managed to lead lap 18, marking the only lead change throughout the long battle between himself and Bloomquist. Madden took the lead in heavy traffic much to the pleasure of his home-track crowd, but under the ensuing caution Madden's right rear tire went flat and he was forced to pit. He never returned to the track.
"I know we have finished later at some tracks," said the winner after the race that ended at about 3:20 am local time. "At the start, I kind of just settled in on the bottom. I really couldn't see where the cushion was. I think we were still fast enough and could have gotten it done."
"The track crew did a good job getting the track back into shape. It's tough getting that initial glaze off the track. Once we started back up again it was good. The track was smooth; you could race all over it. We stayed up high most of the race and when we went down low, it was no problem."
"This Sweet-Bloomquist car ran superbly. The Andy Durham engine ran great as well. I would like to thank Mike Reece of Reece Monument Company, Crop Production Services, Mark Martin Automotive, Horton Coal, Sorbera Chiropractic, Petroff Towing, Dyna Gro Seed, and Penske Shocks."
Roberts and Pursley tried their best after several caution flags to stay with Bloomquist, but both drivers were pleased with their podium finishes.
"I probably had a third place car here tonight," said Roberts. "The track was super-fast after the rain. It was really smooth. They did a good job getting it back in shape. It was a really good race early-on with Scott, Chris, and Johnny. Our car worked better on the bottom, but Scott was just too tough. We are happy with second and we will head to Smoky Mountain tomorrow and see what we can do."
It was the best career LOLMDS finish for the home-state driver Pursley as he held off a torrid battle with Brandon Sheppard to place third. "To be able to stick with these guys tonight says a lot about our team. We sometimes struggle here. But tonight we had a car that ran third against this caliber of drivers that was an honor. I have been coming here a long time and that was the biggest crowd I think I have ever seen here."
Completing the top ten were Brett Hamm, Dennis Erb Jr., Steve Francis, Chris Ferguson and Don O'Neal.
In preliminary action, Scott Bloomquist set the overall Miller Welders Fast Time amongst the 26 entrants with a lap of 14.804 seconds. Scott Bloomquist, Chris Madden, and Casey Roberts won their respective heat races. Donald Bradsher won the B-Main.
Lucas Oil Late Model Dirt Series
Race Summary
Friday, July 8th, 2016
18th Annual Grassy Smith Memorial
Cherokee Speedway – Gaffney, SC
Miller Welders Fast Time Group A: Scott Bloomquist / 14.804 seconds
Miller Welders Fast Time Group B: Brett Hamm / 15.222 seconds
Eibach Springs Heat Race #1 Finish (10 Laps, Top 4 Transfer): Scott Bloomquist, Johnny Pursley, Ross Bailes, Steve Francis, Dennis Erb, Jr., Earl Pearson, Jr., Donald Bradsher, Josh Langley, Dustin Mitchell
FK Rod Ends Heat Race #2 Finish (10 Laps, Top 4 Transfer): Chris Madden, Brett Hamm, Brandon Sheppard, Jimmy Owens, Don O'Neal, Tim McCreadie, Jared Landers, Anthony Sanders, Colton Flinner
Simpson Performance Products Heat Race #3 Finish (10 Laps, Top 4 Transfer): Casey Roberts, GR Smith, Dennis Franklin, Chris Ferguson, Darrell Lanigan, Jonathan Davenport, Doug Sanders, Kenny Collins
Fast Shafts B-Main Finish (12 Laps, Top 6 Transfer): Donald Bradsher, Jared Landers, Anthony Sanders, Josh Langley, Kenny Collins, Dustin Mitchell, Colton Flinner, Doug Sanders
Feature Finish (50 Laps):
FINISH START CAR # DRIVER NAME HOMETOWN EARNINGS
1 1 0 Scott Bloomquist Mooresburg, TN $11,000
2 3 101 Casey Roberts Toccoa, GA $5,500
3 4 9 Johnny Pursley Clover, SC $3,500
4 8 B5 Brandon Sheppard New Berlin, IL $3,450
5 18 6 Jonathan Davenport Mount Airy, NC $3,250
6 5 18 Brett Hamm Newberry, SC $1,800
7 13 28E Dennis Erb, Jr. Carpentersville, IL $2,200
8 10 15F Steve Francis Bowling Green, KY $1,300
9 12 22F Chris Ferguson Mount Holly, NC $1,200
10 14 5 Don O'Neal Martinsville, IN $1,900
11 17 39 Tim McCreadie Watertown, NY $1,775
12 21 421 Anthony Sanders Spartanburg, SC $1,050
13 15 15L Darrell Lanigan Union, KY $1,725
14 19 93 Donald Bradsher Burlington, NC $1,000
15 7 87 Ross Bailes Clover, SC $950
16 11 20 Jimmy Owens Newport, TN $1,725
17 23 75 Colton Flinner Allison Park, PA $1,000
18 24 42 Doug Sanders McAdenville, NC $875
19 20 777 Jared Landers Batesville, AR $1,550
20 6 22* GR Smith Statesville, NC $825
21 2 44 Chris Madden Gaffney, SC $800
22 9 2F Dennis Franklin Gaffney, SC $800
23 22 7L Josh Langley Lancaster, SC $800
24 16 1 Earl Pearson, Jr. Jacksonville, FL $1,600
Race Statistics
Entrants: 26
Lap Leaders: Scott Bloomquist (1-17); Chris Madden (Lap 18); Scott Bloomquist (Laps 19 – 50)
Cautions: Earl Pearson Jr. (Lap 1); Ross Bailes (Lap 18); Chris Ferguson (Lap 20); Jared Landers (Lap 22); Jared Landers (Lap 31)
Lucas Oil Late Model Dirt Series Provisionals: Colton Flinner
Lucas Oil Late Model Dirt Series Emergency Provisionals: n/a
Miller Welders Fast Time Provisional: Doug Sanders
Wrisco Feature Winner: Scott Bloomquist
Optima Batteries Hard Charger of the Race: Jonathan Davenport (Started: 18th; Finished: 5th; Advanced 13 Positions)
Midwest Sheet Metal Spoiler Challenge Point Leader: Scott Bloomquist
Allstar Performance Power Move of the Race: Chris Ferguson
Sunoco Race for Gas Highest Finisher: Jonathan Davenport
Hot Rod Processing Rookie of the Race: Colton Flinner
COMP Cams Engine Builder of the Race: Andy Durham Racing Engines
Ohlins Shocks Chassis Builder of the Race: Sweet-Bloomquist Race Cars
Outerwears Crew Chief of the Race: Kevin Rumley (Jonathan Davenport)
Fastest Lap of the Race: Scott Bloomquist (Lap #5 – 15.1154 seconds)
Most Laps Led: Scott Bloomquist (49 Laps)
PFC Brakes Tough Break Award: Chris Madden
Time of Race: 38 minutes 12 seconds
---
Submitted By: Jeremy Shields
Back to News