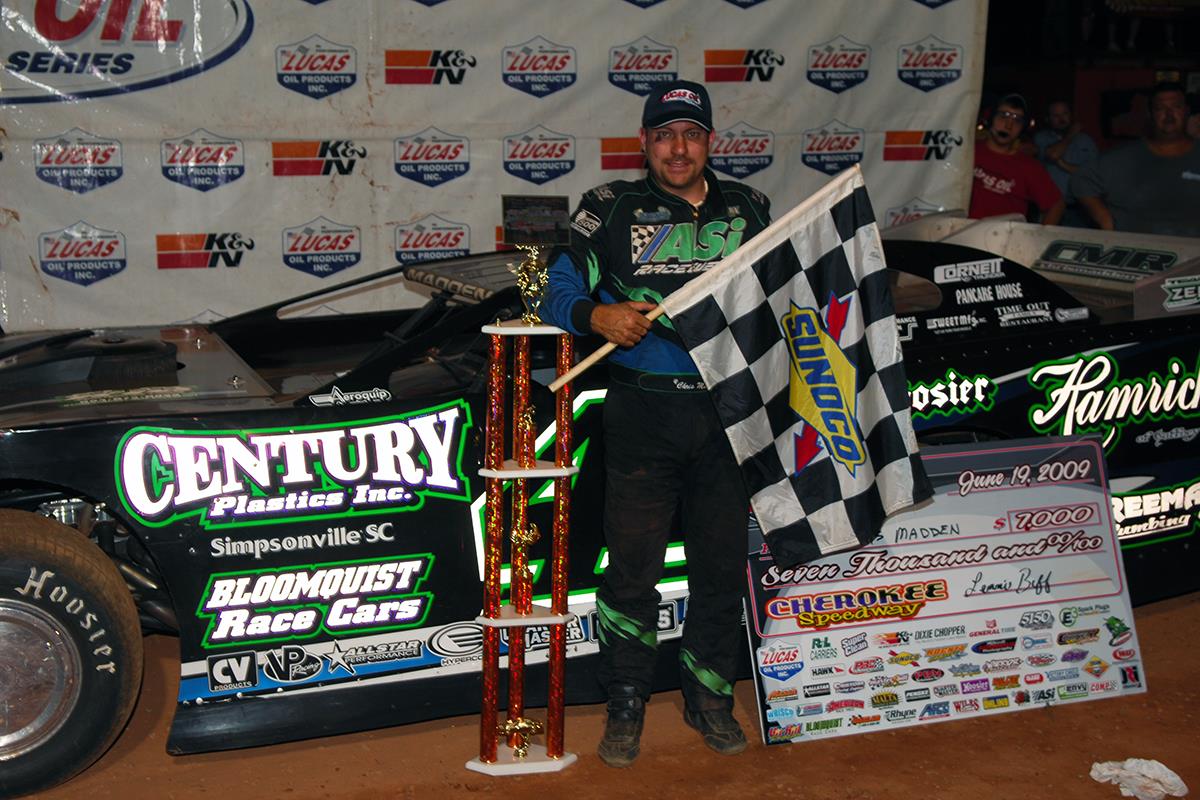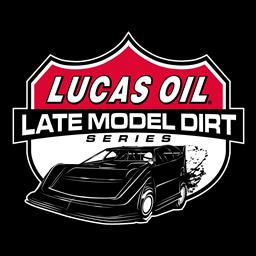 6/19/2009
Lucas Oil Late Model Dirt Series
---
Chris Madden Thrills the Hometown Crowd in Winning Grassy Smith Memorial at Cherokee Speedway for the Series
GAFFNEY, SC (June 19, 2009) – Chris Madden, who now calls Gaffney, SC home, thrilled the hometown fans on Friday Night as he led wire-to-wire in winning the 11th Annual Grassy Smith Memorial for the Lucas Oil Late Model Dirt Series at Cherokee Speedway. Madden became the 16th different winner in 20 races this season as he scored his second career Lucas Oil Series win earning $7,000. Dale McDowell of Chickamauga, GA finished second followed by Jimmy Owens of Newport, TN; Jeff Cooke of Spartanburg, SC; and point's leader Scott Bloomquist of Mooresburg, TN.
Young Chris Ferguson and Madden sat on the front row for the 35 lap event as Madden took the early lead when Ferguson jumped the cushion in turn three losing several spots on the opening lap. Petey Ivey moved into second with McDowell, Owens, and Cooke behind the leader Madden with a lap scored.
The first caution of the caution came with two laps scored for Ricky Weeks who headed pitside, during the caution Ivey went to the hot pit in the infield after giving up his second spot in the line-up as the crew worked under the hood as Ivey would be finished for the race.
On the Delaware double-file restart, Madden was out in front by himself with McDowell and Owens lined up side-by-side. But a three-car incident when Ferguson's right front tire went down caused a pile-up with Dennis Franklin and John Blankenship taking the brunt of the accident, bringing out the caution once again. On the restart, Madden would put several car lengths between himself and the new second place car of McDowell.
The top five of Madden, McDowell, Owens, Jonathan Davenport, and Cooke would stay that way in the running order on the track as Madden built a big lead with 21 laps in the books. Madden then had to contend with heavy traffic and that slowed his progress enough so that the cars of McDowell, Owens, and Davenport were able to close the gap on it.
The top three then went nose-to-tail through traffic with Madden having troublesome negotiating traffic and continued to be a problem as McDowell, Owens, and Davenport kept applying the pressure on Madden, but Madden got a break with two laps to go as the fourth-place running Davenport slowed with a right rear flat tire with 33 laps scored.
Madden then had a clear race track in front of him with a green-white-checkered finish set-up as Madden got a great restart as the green flag flew to complete the last two laps as he was not to be denied as he sped on to pick up the victory as he outdistanced McDowell and Owens to the checkered flag.
In Lucas Oil Victory Lane for the first time since last June at Talladega Short Track Madden was happy to win in front of his hometown fans and family. "We went to qualify early and the car was real good, we've run well here all year, it's great to win in front of all these people here, the track was fast and racy tonight, I have to thank my crew, my wife, kids and all my sponsors I couldn't do it without them and to win a Lucas Oil race is great against this tough competition they have," said the 34-year-old driver.
Madden drives a Bloomquist Race Cars entry with a Cornett Engine and is sponsored by Century Plastics, Inc., Freeman Plumbing, Xtreme Custom and Cycles, Swiftco, Cushman Paint and Body, Allstar Performance, Henderson Amusement, Hamrick's of Gaffney and Renntech Graphics.
McDowell driving NASCAR's Clint Bowyer's/Chevrolet/Warrior Race Cars Impala SS moved into second in points after his runner-up finish Friday Night. Owens in the Mike Reece/Reece Monuments/Bloomquist Race Cars Ford Fusion was third as he climbed to third in the points behind Bloomquist and McDowell.
Cooke in his first Lucas Oil start of '09 was fourth in the Hamrick Motorsports/Cornett Racing Engines/Bloomquist Race Cars Ford Fusion with Bloomquist coming home fifth in his Miller Brothers Coal/VP Racing Fuels/Bloomquist Race Cars Monte Carlo SS.
Completing the top ten were Jeff Smith, Brad Neat, Brent Dixon, Furman Parton, and Steve Casebolt. Casebolt earned the PBM/Erson Cams Hard Charger of the Race as he came from the 22nd starting position to finish tenth.
In preliminary action Chris Ferguson was the PRC Fast Timer among the 31 entries with a lap of 15.415 seconds. Heat race winners were Chris Ferguson, Chris Madden and Jimmy Owens. David Breazeale won the B-main. The event was race number five on the 2009 Summer Sizzler Tour as Madden became the fifth different winner in the five race mini-series.
To find out more about the Lucas Oil Late Model Dirt Series, log on to www.lucasdirt.com or call the series office at (951) 532-2503.
Lucas Oil Late Model Dirt Series
Race Summary
Thursday Night, June 19, 2009
Cherokee Speedway – Gaffney, SC
PRC Fast Time: Chris Ferguson/ 15.415 seconds
Hawk Brake First Heat (10 Laps-Top 6 Advance): Chris Ferguson, Petey Ivey, Scott Bloomquist, Brent Dixon, Brad Neat, Ricky Weeks, Dan Schlieper, Johnny Pursley, Freddy Smith, Daniel Baggerly
Hawk Brake Second Heat (10 Laps-Top 6 Advance): Chris Madden, Jeff Cooke, Jonathan Davenport, Don O'Neal, John Blankenship, David Breazeale, Ray Cook, Shon Flanary, Michael Walker
AFCO Racing Products Third Heat (10 Laps-Top 6 Advance): Jimmy Owens, Dale McDowell, Jeff Smith, Dennis Franklin, Ed Basey, Furman Parton, Steve Casebolt, Monk Gulledge, Josh McGuire, Benji Cole-DNS
Mason Racin' Rebel Shock Dyno First B-Main (12 Laps- Top 4 Advance): David Breazeale, Dan Schlieper, Johnny Pursley, Steve Casebolt, Ray Cook, Freddy Smith, Shon Flanary, Daniel Baggerly, Monk Gulledge, Josh McGuire, Michael Walker-DNS, Benji Cole-DNS
Feature Finish (35 Laps): Chris Madden, Dale McDowell, Jimmy Owens, Jeff Cooke, Scott Bloomquist, Jeff Smith, Brad Neat, Brent Dixon, Furman Parton, Steve Casebolt, Don O'Neal, Dan Schlieper, Ray Cook, Jonathan Davenport, Johnny Pursley, David Breazeale, John Blankenship, Earl Pearson Jr., Freddy Smith, Ed Basey, Chris Ferguson, Josh McGuire, Petey Ivey, Dennis Franklin, Ricky Weeks
Race Statistics
Entries: 30
Caution Flags: Ricky Weeks (Lap 2); Dennis Franklin, John Blankenship (Lap 2); Jonathan Davenport (Lap 33)
Lap Leaders: Chris Madden (1-35)
Lucas Oil Late Model Dirt Series Provisionals: Ray Cook, Josh McGuire
PBM/Erson Cams Hard Charger of the Race: Steve Casebolt
Allstar Performance Performer of the Race: Brad Neat
K&N Filters Clean Pass of the Race: Dale McDowell
Quarter Master Rookie of the Race: David Breazeale
Comp Cams Engine Builder of the Race: Cornett Racing Engines
Time of the Race: 30 minutes 28 seconds
---
Submitted By: Jeremy Shields
Back to News