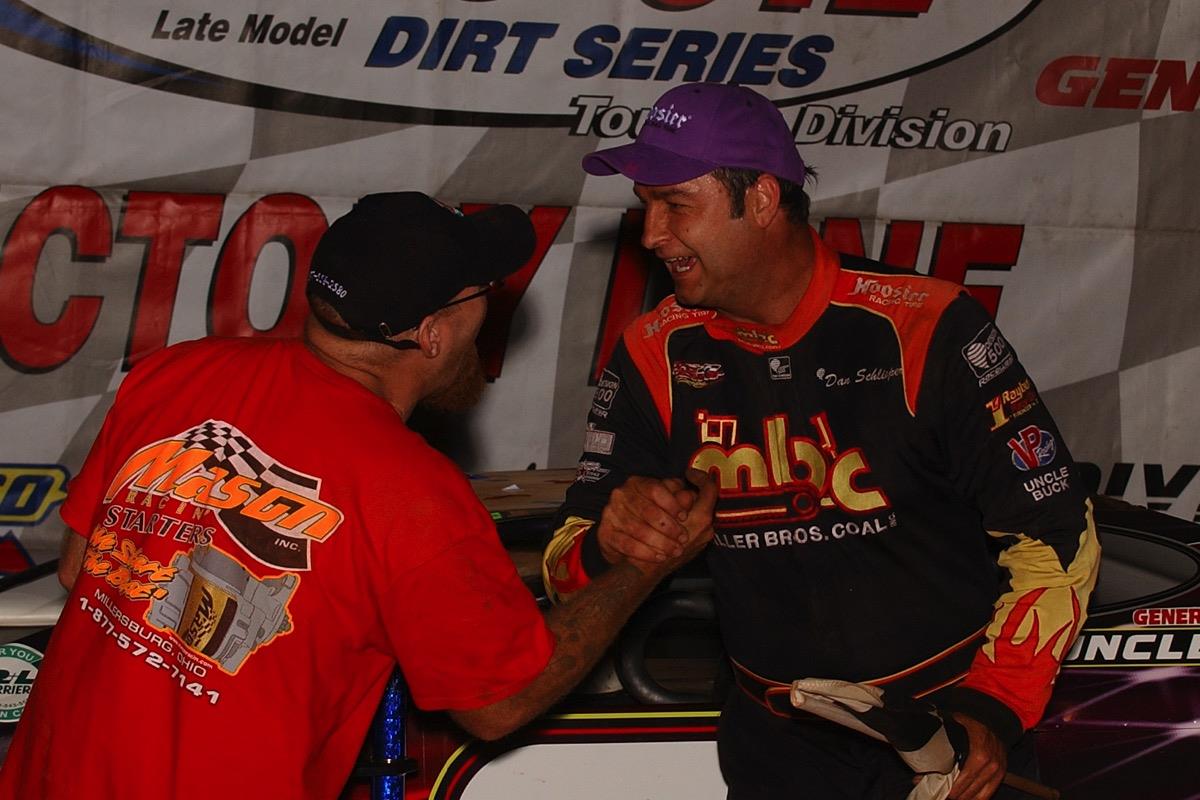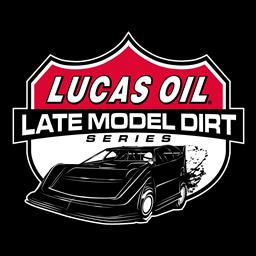 6/20/2008
Lucas Oil Late Model Dirt Series
---
Schlieper over Owens in Series Grassy Smith Memorial at Cherokee
GAFFNEY, SC (June 20, 2008) – In front of a standing room only crowd, the Lucas Oil Late Model Dirt Series returned to Cherokee Speedway for the first time since 2006. The fans were not disappointed as Dan Schlieper of Sullivan, WI held off Jimmy Owens by a mere car length to win the 10th Annual Grassy Smith Memorial Race on Friday Night. Schlieper would lead all 40 laps, but Owens put on a late-race charge from his 11th starting spot to finish right on Schlieper's bumper at the finish. Schlieper earned $7,000 for his second LOLMDS win in the last three races. Jonathan Davenport of Blairsville, GA finished third followed by polesitter Randle Chupp of Troutman, NC and Chris Madden of Gray Court, SC.
Chupp and Schlieper would make up the front row for the Grassy Smith Memorial which was being held for the first time at Cherokee. The initial start would be called back after a spun car negated a complete lap being scored. On the second try, Schlieper would take the lead with Chupp, Davenport, Dennis Franklin and Steve Blackburn in his first ever LOLMDS start completing the top five with one lap scored.
To show how fast Schlieper was, he was already picking up the tail end of the field by the fifth lap as he held a three-car length lead over Chupp. Schlieper began putting lapped cars between himself and Chupp; Davenport and Franklin would join the duo up front making it now a four-car battle for the lead.
By the 13th lap the cars of Chupp, Davenport, and Franklin would go three-wide for second as Schlieper was just two car lengths in front of them. The exciting tussle up front had the fans on the edge of their seats as there would soon be some new blood in the hunt. Owens had steadily climbed from his 11th starting slot and was now challenging Blackburn for fifth.
On the 24th lap, Davenport would make a move for second as he wrestled the position away from Chupp. A caution on lap 26 for a two-car accident in turn two would slow the field momentarily. Under the caution Franklin would head pitside with low right rear tire while running in the fourth position.
Franklin's misfortune was good for Owens, as the 2007 World 100 winner was now all alone in fourth place. On the restart Schlieper would still show the way as the torrid battle for second was still going on between Davenport, Chupp and Owens. Owens would clear Chupp on the inside for second coming off of turn number four on lap 25.
With 10 laps to go, Schlieper looked to be in complete control of the race as he extended his lead to four car lengths. Davenport and Owens then went door-to-door for two circuits until Owens made the pass to take over second. Owens, however, was several car lengths behind Schlieper at this point.
The final caution of the race came out on lap 33 when Jeff Cooke and Billy Drake got together, giving Owens the break he needed. This would set up a seven lap showdown to the finish between Schlieper and Owens. Schlieper would put a distance of three-car lengths between himself and Owens with five to go. Owens then charged back to put himself in position to possibly overtake Schlieper in the closing laps as he closed right on the rear on Schlieper's car with two laps to go.
But Owens began to drift high in turn number two bumping the guardrail with the right rear quarter-panel of his car, stalling his momentum just enough that Schlieper looked to be in the clear as the cars headed for the white flag.
Owens would make one valiant attempt on the final lap as he closed rapidly on Schlieper as the two headed into turn number three, but coming off of turn four Schlieper would win the race to the checkered flag to earn his third career Lucas Oil Late Model Dirt Series victory in his Miller Brothers Coal/Hawkeye Trucking/Uncle Buck/VP Racing Fuels/Hoosier Tires/Integra Shocks/Five Star Race Car Bodies/Pro Power Engines/Wild Inc. Chassis Ford Fusion.
In the Lucas Oil victory lane Schlieper was all smiles because for the second time in the last week he had led the entire distance for the win. "I am really proud of this Wild Chassis, I figured Jimmy was right there at the end, but I held him off and it feels good to get another win," said the 2003 World 100 and North-South 100 Winner. "I've got to thank Jason (Palubicki, his crew chief), Bob and Barb Miller and my brothers Bill and John and I can't forget Uncle Buck who was at North Georgia to see us win last week."
Owens in the Mike Reece/Reece Monuments/Bloomquist Ford Fusion finished second and thought he had a chance to overhaul Schlieper in the closing laps. "I thought I was going to get past him, but I got too high there in turn two and brushed the wall and that probably killed my chances."
Davenport's third place finish came in the Beaver Bail Bonds/Clements Racing Engines/Barry Wright Monet Carlo SS with Chupp in the Starrette Trucking/Randy Clary Racing Engines/Rocket GTO coming home in fourth followed by Madden, last weekend's LOLMDS winner at Talladega finishing fifth in his Century Plastics/Vic Hill Racing Engines/Bloomquist Race Cars Monte Carlo SS.
Completing the top ten were Steve Blackburn, Terry Casey, Scott James, Bart Hartman and Casey Roberts.
Steve Casebolt of Richmond, IN finished 11th which was one spot ahead of Earl Pearson, Jr. of Jacksonville, FL to maintain a ten-point lead in the Lucas Oil Late Model Dirt Series Championship Points Standings.
In preliminary action at the Lennie Buff promoted facility, Jonathan Davenport took the PRC Fast Time honors with a quick lap of 15.248 seconds among the 33 entrants on hand. Davenport also earned an extra bonus of $500 cash from City Chevrolet in Charlotte, NC for setting fast time. The heat race winners were Jonathan Davenport, Randle Chupp and Dan Schlieper. Justin Rattliff won the B-Main.
The Lucas Oil Late Model Dirt Series will return to the track on Saturday Night, June 21st at Fayetteville Motor Speedway in Fayetteville, NC for the Dunn-Benson Ford 50 paying $10,000 to win. For more information you can go to www.fayettevillemotorspeedway.net and www.lucasdirt.com.
You can find out more about the Lucas Oil Late Model Dirt Series by logging on to www.lucasdirt.com or call the series office at (951) 532-2503.
Lucas Oil Late Model Dirt Series
Race Summary
Friday Night, June 20, 2008
Cherokee Super Speedway—Gaffney, SC
PRC Fast Time: Jonathan Davenport/15.248 seconds
Hawk Brake First Heat (10 Laps-Top 6 Advance): Jonathan Davenport, Steve Blackburn, Chris Madden, Scott James, Jeff Cooke, Wayne Chinn, Justin Rattliff, Furman Parton, Shon Flanary, Freddy Smith, Jim Rasey
Hawk Brake Second Heat (10 Laps-Top 6 Advance): Randle Chupp, Dennis Franklin, Earl Pearson Jr., Jimmy Owens, Damon Eller, Jeff Smith, Steve Casebolt, Brent Robinson, Virgil Taylor, Petey Ivey – DNS, Johnny Pursley – DNS
AFCO Racing Products Third Heat (10 Laps-Top 6 Advance): Dan Schlieper, Terry Casey, Bart Hartman, Billy Drake, Casey Roberts, Justin McRee, John Pursley, Mike Duvall, John Mason, Brent Dixon, Anthony Sanders
Mason Racin' Rebel Shock Dyno B-Main (12 Laps-Top 4 Advance): Justin Rattliff, Furman Parton, John Pursley, Freddy Smith, John Mason, Shon Flanary, Virgil Taylor, Jim Rasey, Mike Duvall, Brent Robinson, Steve Casebolt – DNS, Brent Dixon – DNS, Anthony Sanders – DNS, Petey Ivey – DNS, Johnny Pursley – DNS
10th Annual "Grassy Smith Memorial" Feature Finish (40 Laps): Dan Schlieper, Jimmy Owens, Jonathan Davenport, Randle Chupp, Chris Madden, Steve Blackburn, Terry Casey, Scott James, Bart Hartman, Casey Roberts, Steve Casebolt, Earl Pearson Jr., Justin McRee, Wayne Chinn, Dennis Franklin, Furman Parton, Billy Drake, Freddy Smith, Justin Rattliff, Damon Eller, John Mason, Jeff Smith, Jeff Cooke, John Pursley
Race Statistics
Entries: 33
Caution Flags: 3
Lap Leaders: Dan Schlieper 1-40
Lucas Oil Late Model Dirt Series Provisionals: Steve Casebolt, John Mason
PBM/Erson Cams Hard Charger of the Race: Steve Casebolt (Started 23rd and finished 11th – advanced 12 positions)
Allstar Performance Performer of the Race: Dan Schlieper
K&N Filters Clean Pass of the Race: Jimmy Owens
Quarter Master Rookie of the Race: Terry Casey
ASI Racewear Lucky 7 Award: Terry Casey
Integra Shocks Crew Chief of the Race: Austin Hargrove (Bart Hartman)
Comp Cams Engine Builder of the Race: Pro Power Racing Engines
Time of the Race: 28 minutes
---
Submitted By: Jeremy Shields
Back to News