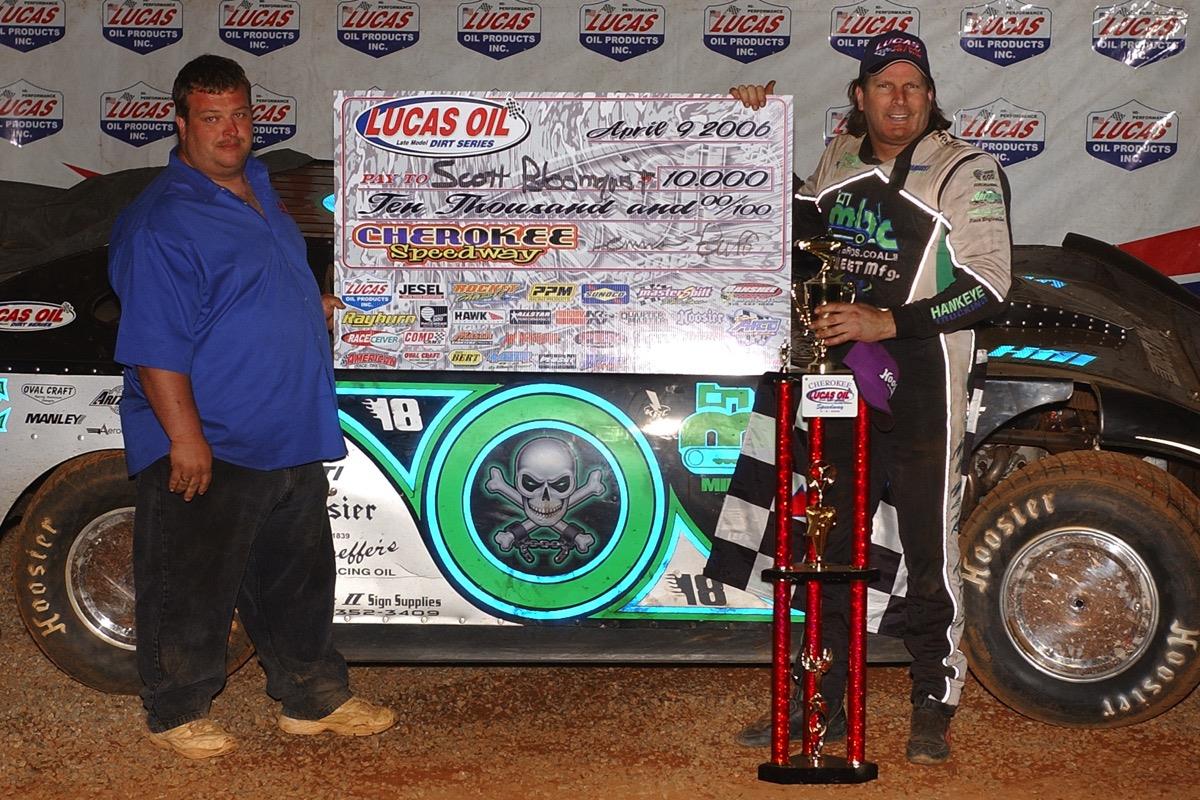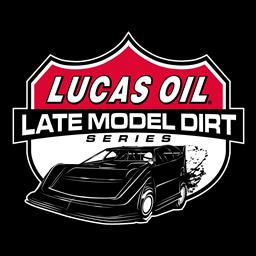 4/9/2006
Lucas Oil Late Model Dirt Series
---
Scott Bloomquist Banks Lucas Oil Late Model Dirt Series Event at Cherokee Speedway
GAFFNEY, SC (April 9, 2006)- National Dirt Late Model Hall of Famer Scott Bloomquist of Mooresburg, TN put on a dominating performance in winning the 50 lap Lucas Oil Late Model Dirt Series event on Sunday Night at the Cherokee Super Speedway as he led every lap in collecting $10,000 for this third career series win.
Bloomquist behind the wheel of his Miller Brothers Coal/Hawkeye Trucking/All-Star Performance/Sweet Manufacturing/Ohlins/Hoosier Tires/Vic Hill Racing Engines/Bloomquist Race Cars Chevrolet won by several car lengths over race runner-up Don O'Neal of Martinsville, IN who came home second in the Randall Eller/Independence Lumber/MasterSbilt Monte Carlo with Ray Cook of Brasstown, NC placing third in the Youngblood Concrete/Engines Inc./MasterSbilt Fusion.
The rest of the top five would be Dennis Franklin of Gaffney, SC in the Swiftco Motorsports/Cherokee Landscaping/Barry Wright Taurus and Chris Madden from Gray Court, SC in the Jamie Henderson/Time Out Family Restaurant/Barry Wright Grand Prix. A total of 46 cars were on hand for the first ever visit to the Lennie Buff promoted facility.
Bloomquist would draw the number one starting spot for the main event and he fired from the pole with Scott James starting alongside. James tried to get to turn number one over Bloomquist, but Bloomquist fought back coming off of turn two on the opening lap grabbing the point. Dennis Franklin would be in third with Ray Cook and Don O'Neal in the top five after one circuit was scored.
Bloomquist would quickly open up a significant advantage over everyone coming to a 15 car length lead by the eighth lap. With Bloomquist setting sail a good battle for second was going on between James and Franklin. Those two would go side by side for a couple of laps with James holding on to the spot. The top five would remain the same through lap 15 with Bloomquist encountering some lapped traffic at this point of the race.
On lap 16 the first change inside the top five would occur when Franklin passed James for the runner-up position. Cook would then get by James on lap 21 for third dropping him to fourth in front of O'Neal. The first caution of the race flew on lap 23 for Johnny Collins and that would bunch the field for the first time since the start of the race.
On the restart Cook would get by Franklin to take over second but a yellow for Jackie Boggs on lap 25 would slow the action again this time at the halfway mark of the race. That particular restart would be beneficial for O'Neal as he went to third around Franklin and would then challenge Cook for second. The third caution of the event appeared on lap 28 for Mike Marlar and then a circuit later Tim Dohm stopped in turn four which resulted in again another restart. With 29 laps officially in the books Bloomquist was still showing the way with O'Neal now up to second. Franklin was third followed by James.
On the lap 30 restart a melee occurred on the main straightaway when an upper control arm broke on James' car and several drivers would pile into each other just past the flag stand. The red flag would come out and all drivers were checked out to be okay, but there were several damaged race cars that would be out of the race. For the rest of the 20 lap event Bloomquist would remain the man in control extending his lead over O'Neal and Cook as he would go unchallenged to the checkered flag in picking up his first Lucas Oil Late Model Dirt Series event win of '06 and thus becomes the eighth different winner in the first nine series races this season.
O'Neal finished a distanced second followed by Cook, who had won the previous night at Dixie Speedway, Franklin and Chris Madden would complete the op five drivers. "The car just worked perfectly all night long," said the 42 year old Bloomquist in victory lane. "We had to make an engine change after our heat race and that kept us on our toes, but the Vic Hill Engine performed flawlessly in the feature and everything went real well for us here and we are glad to pick up this win." "I especially want to thank Bob Miller, he has been with our program a long time and we really appreciate his support and help and thanks to all the fans for coming out tonight."
Completing the top ten drivers in the final rundown were: Jeff Cooke, Donnie Moran, Steve Casebolt, Tim Dohm and Billy Hicks. With Moran's seventh place finish he now takes over the series points lead by ten points over Earl Pearson, Jr. who did not finish the race after being involved in the lap 30 accident. In preliminary action at Cherokee, Brandon Kinzer was the Comp Cams Fast Timer for the 46 entries with a lap of 20.119 seconds. The PBM Performance Products Heat Race Winners were Scott Bloomquist, Scott James, Ray Cook and Dennis Franklin. The Mason Racin' Rebel Shock Dyno First B-Main went to Jeremy Clements and the Penske Shocks Second B-Main was won by Jimmy Owens.
The Lucas Oil Late Model Dirt Series will take the Easter weekend holiday off and resume it's 2006 tour on Friday and Saturday, April 21 and 22 with the first mega event of the 2006 season in dirt late model racing as the "Colossal 100" will be held at The Dirt Track@Lowe's Motor Speedway in Concord, NC. The inaugural event will pay $50,000 to win and $2,000 start and features a $200,000 total purse. Fore more information you can log on to www.lowesmotorspeedway.
Race Summary Lucas Oil Late Model Dirt Series Sunday Night, April 9, 2006 Cherokee Super Speedway-Gaffney, SC
Comp Cams Fast Time: Brandon Kinzer 20.199 seconds
PBM Performance Products Heat #1 (Top 4 advance): Scott Bloomquist, Randle Chupp, Billy Hicks, Steve Casebolt, Johnny Collins, Kelly Thacker, Jeremy Clements, David McCoy, Kevin Tessner, Freddy Smith, Brandon Kinzer, Bruce Hall
PBM Performance Products Heat #2: (Top 4 advance): Scott James, Chris Madden, Donnie Moran, Jeff Smith, Damon Eller, Steve Shaver, Steve Hillard, Mike Duvall, Doug Sanders, Larry Blankenship, Corey Conley
PBM Performance Products Heat #3: (Top 4 advance): Ray Cook, Earl Pearson, Jr., Matt Miller, Mike Marlar, Jimmy Owens, Dennis Erb, Jr., Tim Dohm, Ricky Weeks, Doug Horton, Jack Pennington, Josh Echoles
PBM Performance Products Heat #4: (Top 4 advance): Dennis Franklin, Don O'Neal, Jeff Cooke, Jackie Boggs, Royce Bray, Brady Smith, Randy Weaver, Petey Ivey, Jonathan Davenport, Michael England, Phillip Seifert
Mason Racin' Rebel Shock Dyno First B-Main: (Top 3 advance): Jeremy Clements, Steve Shaver, Johnny Collins, Steve Hillard, Corey Conley, Brandon Kinzer, Kelly Thacker, Mike Duvall, Freddy Smith, Doug Sanders, Damon Eller, David McCoy
Penske Shocks Second B-Main: (Top 3 advance): Jimmy Owens, Dennis Erb, Jr., Petey Ivey, Tim Dohm, Ricky Weeks, Doug Horton, Michael England, Jonathan Davenport, Brady Smith, Josh Echoles, Royce Bray
A-Main Feature Event: (50 Laps): Scott Bloomquist, Don O'Neal, Ray Cook, Dennis Franklin, Chris Madden, Jeff Cooke, Donnie Moran, Steve Casebolt, Tim Dohm, Billy Hicks, Petey Ivey, Scott James, Earl Pearson, Jr., Randle Chupp, Matt Miller, Steve Shaver, Jeremy Clements, Doug Horton, Mike Marlar, Jackie Boggs, Jimmy Owens, Johnny Collins, Jeff Smith, Dennis Erb, Jr.
Race Statistics Entries: 46 Yellow Flags: 4 Red Flags: 1 Lap Leaders: Scott Bloomquist 1-50 All-Star Performance Performer of the Race: Tim Dohm (started 24th and finished 9th) Advanced 15 positions K&N Engineering Clean Pass of the Race: Ray Cook Hawk Brake Tough Break Award: Scott James Quarter Master Move of the Race: Don O'Neal Weld Wheels Award: Mike Marlar Lucas Oil Late Model Dirt Series Rookie of the Race: Steve Casebolt Lucas Oil Late Model Dirt Series Provisionals: Doug Horton and Tim Dohm
---
Submitted By: Jeremy Shields
Back to News