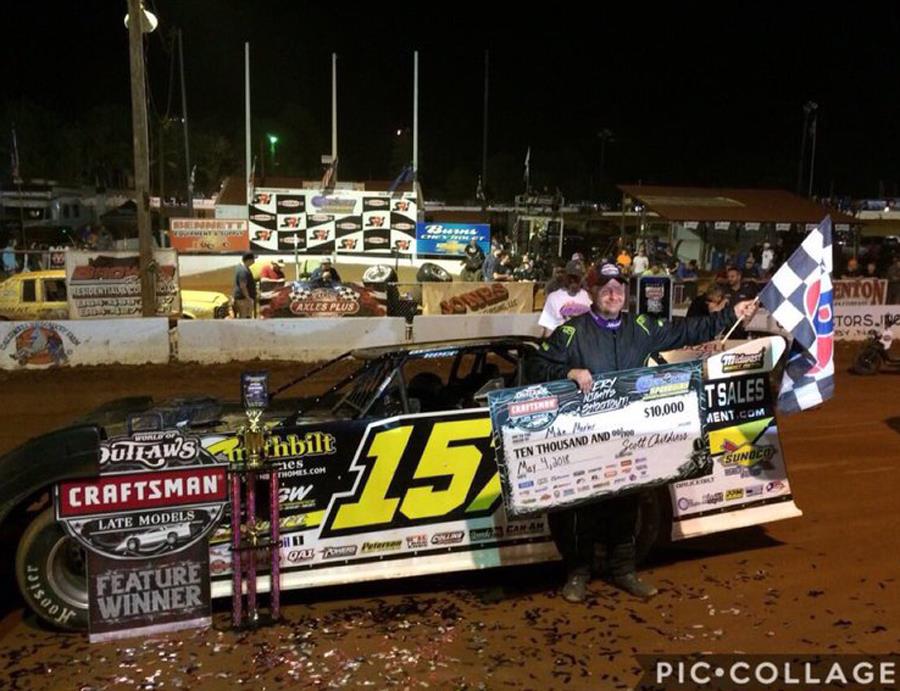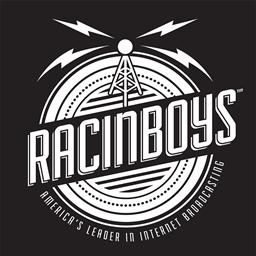 ---
Marlar nabs WOO Late Model prize at Cherokee
By WOO Late Model Series PR (Gaffney, SC) -- Mike Marlar claimed his first World of Outlaws Craftsman® Late Model Series win of the 2018 season on Friday at Cherokee Speedway in front of a full house. The Winfield Warrior led all 50-laps of the Craftsman Club Feature en route to a $10,000 payday.
"Getting that first win behind you is a big thing. It's a confidence booster and lets you know you're doing the right things," said Marlar in Victory Lane. "Ronny Delk, my car owner, man, he just an awesome guy. He gives me really good equipment. I'd like to thank [my crew guys] Josh Davis and Jerry Spruce and my wife Stacey at home, she is usually here. Those guys worked their tails off this week. Up at Brucebilt, we built us a new car. It's been a lot of hard work this week and we were fortunate to get to the front."
Marlar held off charges from fellow World of Outlaws' powerhouses Shane Clanton, Chris Madden and Brandon Overton. The closest threat for the lead was on lap 34 by a hard-charging Overton on the high-side.
Overton erased Marlar's one-second lead in just one lap. After passing for the lead, a caution fell so the lap was not completed. Marlar was back in the lead position for the restart and Overton resumed second ahead of Madden. Just two laps later, Overton suffered from a flat right-rear tire and finished 14th.
"Well, I was sure glad for [that caution]," said Marlar. "I lost one like that at Volusia early in the year so I hate it for him. I guess, but I don't know, he might have had a softer tire or something because he could get out there in the crumbs, and all of the guys on the harder stuff I think we were pretty committed to hugging that inside wall. Fortunate for me, that caution came out and then I kind of knew what to do and the track had widened out a little bit so I was pretty much home free then."
Marlar finished nearly three-and-a-half-seconds ahead of a close battle for second between Clanton and Madden. The pair finished 0.022 seconds apart. Although Clanton has not scored a win yet this season, he has collected three second-place finishes of the last five Series races.
"We were trying to get up there and race with Marlar," said Clanton. "He took off that last caution. We were keeping up with him early but our car is pretty good and hopefully tomorrow we'll be better. Anytime you can get top-fives the wins will start coming so hopefully we can just keep doing what we're doing and the wins will come."
Hometown favorite Madden collected his seventh podium finish of eight World of Outlaws events which places him back on top in the point standings but the battle is tight. Madden leads Marlar in second by 22 points, Sheppard in third by 36 points, and Clanton in fourth by 40 points.
"We had a great racecar earlier in the night and we just missed our adjustments earlier in the feature and wound up with a third-place car instead of a winning race car," said Madden. "We'll take it as long as we keep being consistent and running in the top-three we will get our wins. We kind of feel like we let one slip away here tonight."
The World of Outlaws Craftsman Late Model Series completes their triple-header swing on Saturday, May 5 at Senoia Raceway for the Billy Clanton Classic.
Abbreviated Results
Craftsman Club Feature (50 Laps): 1. 157-Mike Marlar [1][$10,000]; 2. 25-Shane Clanton [5][$5,000]; 3. 44-Chris Madden [3][$3,000]; 4. 22-Chris Ferguson [6][$2,500]; 5. 58-Donald McIntosh [7][$2,000]; 6. 79-Ross Bailes [4][$1,700]; 7. 1D-Brent Dixon [10][$1,400]; 8. 7-Rick Eckert [9][$1,300]; 9. 9-Devin Moran [12][$1,200]; 10. 54-David Breazeale [15][$1,100]; 11. 2c-Joey Coulter [17][$1,050]; 12. 91-Tyler Erb [23][$1,000]; 13. B1-Brent Larson [13][$950]; 14. 116-Brandon Overton [8][$900]; 15. 18c-Chase Junghans [21][$850]; 16. 32m-Dustin Mitchell [18][$800]; 17. 14m-Morgan Bagley [19][$770]; 18. 22x-G.R. Smith [22][$750]; 19. C8-Timothy Culp [16][$730]; 20. 6-Blake Spencer [24][$700]; 21. 1-Brandon Sheppard [11][$700]; 22. 2-Dennis Franklin [20][$700]; 23. O9-Johnny Pursley [2][$700]; 24. 1x-Chub Frank [14][$700]
Hard Charger Award: 91-Tyler Erb[+11]
Qualifying: 1. 22-Chris Ferguson, 14.797; 2. O9-Johnny Pursley, 14.94; 3. 44-Chris Madden, 14.956; 4. 157-Mike Marlar, 14.974; 5. 79-Ross Bailes, 15.014; 6. 7-Rick Eckert, 15.021; 7. 1D-Brent Dixon, 15.057; 8. 116-Brandon Overton, 15.091; 9. 25-Shane Clanton, 15.136; 10. 58-Donald McIntosh, 15.147; 11. 1-Brandon Sheppard, 15.148; 12. 54-David Breazeale, 15.18; 13. C8-Timothy Culp, 15.387; 14. 1x-Chub Frank, 15.414; 15. 32m-Dustin Mitchell, 15.415; 16. 24D-Michael Brown, 15.373; 17. 2c-Joey Coulter, 15.448; 18. 9-Devin Moran, 15.465; 19. B1-Brent Larson, 15.493; 20. 2-Dennis Franklin, 15.538; 21. 93-Donald Bradsher, 15.571; 22. 2x-John Henderson, 15.686; 23. 42-Cla Knight, 15.7; 24. 18c-Chase Junghans, 15.727; 25. 14m-Morgan Bagley, 15.82; 26. 91-Tyler Erb, 15.846; 27. 15-Justin Duty, 16.078; 28. 72-Robbie Bailey, 16.218; 29. 6-Blake Spencer, 16.667; 30. 22x-G.R. Smith, NT
FULL RESULTS: http://woolms.com/results/2018-results/2386-05-04-18-cherokee-speedway
---
Submitted By: Kirk Elliott
Back to News