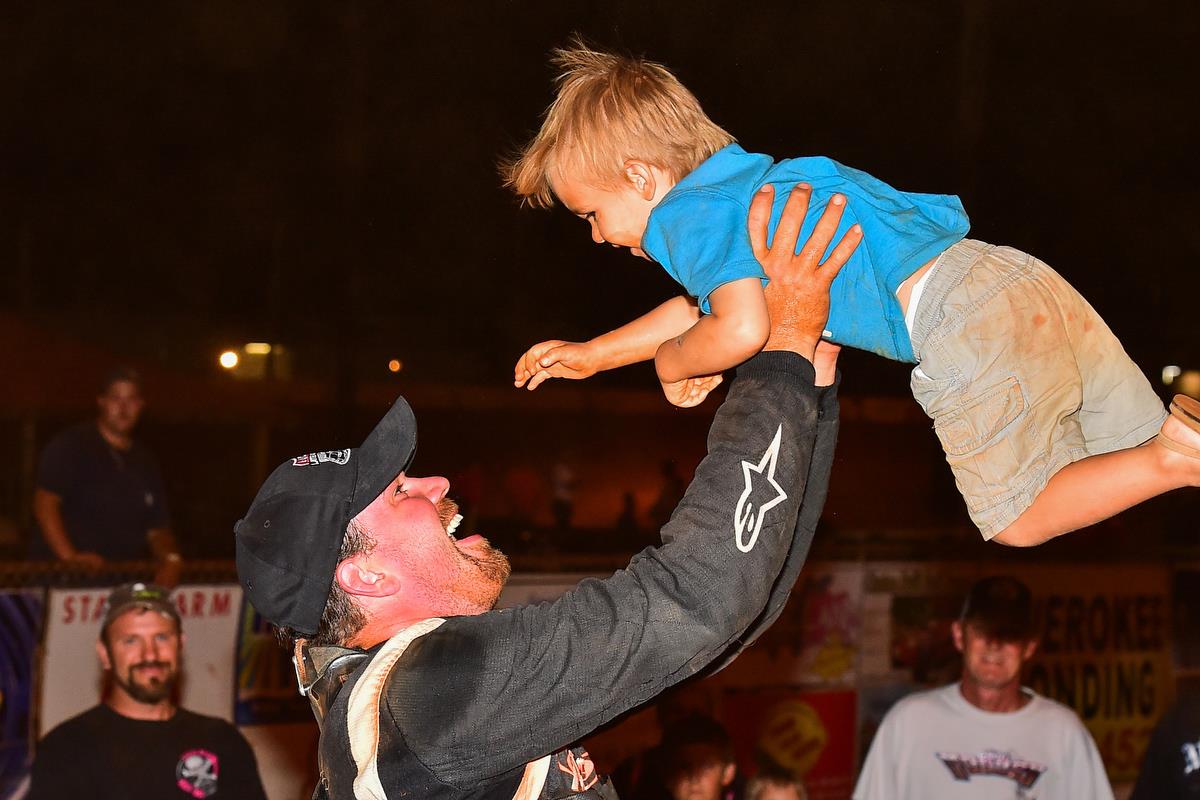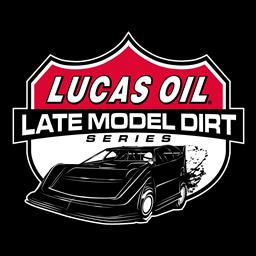 6/19/2015
Lucas Oil Late Model Dirt Series
---
Davenport Dashes to Grassy Smith Memorial Win
AFFNEY, SC (June 19, 2015) – Jonathan Davenport passed race leader Chris Ferguson on lap 45 and then went on to win the Grassy Smith Memorial on Friday Night at Cherokee Speedway. The win for the current Lucas Oil Late Model Dirt Series Points Leader was a series record five-in-a-row for the 31-year-old racer. Since Memorial Day weekend, he has won nine consecutive feature events.
Ferguson led the first 44 laps of the race and finished second. He was trailed by defending race winner, Don O'Neal. Ross Bailes and Earl Pearson Jr. completed the Top-5.
"That win took a lot of patience. I knew when we rolled out for the feature, our tires were too hard. I managed the tires for the first 15 or so laps, because I didn't want to burn the edges off. This car just came alive late in the race. I'd really like to thank my crew; they worked their tails off on this thing," said Davenport in Lucas Oil Victory Lane.
"Thank you to all of these fans for coming out here tonight! I almost consider this my home track. I just love coming to this place. I almost got too excited there when I caught up to Chris. I found a little lane coming off of turn four. I knew he was running the top and the only way I was going to pass him was to slide him. I hope I left him enough room. He and I usually race pretty clean together. Man, what a roll we are on!"
"Thanks to Kevin and Lee Roy Rumley, TS Crane, Sundance Services, Sundance Flowback Well Testing, Mega Plumbing of the Carolinas, JRi Shocks, Bryson Motorsports, Dirtwrap, FK Rod Ends, Bobby and Terry Labonte and of course everybody at Longhorn Chassis. I want to race every night, this is fun."
Ferguson set a new track record in Miller Welders Time Trials, and then won the first heat to earn the pole starting spot for the 50-lap feature. A lap 40 caution slowed the field for one last time. That allowed Davenport to set him up on the final restart once it went green.
"Yes, I should have stayed higher on the track," said Ferguson. "We had a great car all night long, so what can you say? I wanted to win this race bad; we had a lot of fans here. We came so close to getting our first Lucas Oil victory, so it is a bit heartbreaking. Even still, second place against these guys says something about our race team. We never give up!"
"I left the door open with five to go. I thought I got into the corner well enough, but apparently not. I just couldn't hold him off. He is the best driver in the country right now. It was a good night for Longhorn Chassis and we will get them next time," said the driver of the Carver and Sons Roofing, Langley Collision Center #22.
Completing the top ten were Casey Roberts, Dennis Erb Jr., Steve Casebolt, Mason Zeigler, and Chris Brown.
In preliminary action, Chris Ferguson set the overall Miller Welders Fast Time (Group B) amongst the 27 entrants, with a lap of 14.754 seconds. Scott Bloomquist set the fastest time in Group A with a time of 14.878 seconds. Chris Ferguson, Jared Landers, and Steve Casebolt won their respective heat races. Eddie Carrier Jr. won the B-Main.
For the latest breaking news on the Lucas Oil Late Model Dirt Series, log onto www.lucasdirt.com and follow the series at www.facebook.com/lucasdirt, www.twitter.com/lucasdirt, and www.instagram.com/lucasdirt.
Lucas Oil Late Model Dirt Series
Race Summary
Saturday, May 16th, 2015
Grassy Smith Memorial
Cherokee Speedway – Gaffney, SC
Miller Welders Fast Time Group A: Scott Bloomquist / 14.878 seconds
Miller Welders Fast Time Group B: Chris Ferguson / 14.754 seconds
Eibach Springs Heat Race #1 Finish (10 Laps, Top 6 Transfer): Chris Ferguson, Jimmy Owens, Earl Pearson, Jr., Don O'Neal, Dennis Franklin, Dennis Erb, Jr., Jeff Smith, Doug Sanders, Lauren Longbrake
FK Rod Ends Heat Race #2 Finish (10 Laps, Top 6 Transfer): Jared Landers, Scott Bloomquist, Casey Roberts, Jonathan Davenport, Devin Moran, Mason Zeigler, Eddie Carrier, Jr., Kevin Godwin, Jim Manka
Simpson Performance Products Heat Race #3 Finish (10 Laps, Top 6 Transfer): Steve Casebolt, Ross Bailes, Brandon Sheppard, Chris Brown, Josh Langley, Steve Francis, Johnny Pursley, Steven Roberts, Kevin Wilson
Fast Shafts B-Main #1 Finish (12 Laps, Top 4 Transfer): Eddie Carrier, Jr., Jeff Smith, Steven Roberts, Doug Sanders, Kevin Wilson, Jim Manka, Kevin Godwin, Johnny Pursley, Lauren Longbrake
Feature Finish (50 Laps): 1. 6-Jonathan Davenport; 2. 22F-Chris Ferguson; 3. 5-Don O'Neal; 4. 87-Ross Bailes; 5. 1-Earl Pearson Jr; 6. 101-Casey Roberts; 7. 28E-Dennis Erb Jr; 8. C9-Steve Casebolt; 9. 25Z-Mason Zeigler; 10. 21B-Chris Brown; 11. 2F-Dennis Franklin; 12. 15-Steve Francis; 13. 0-Scott Bloomquist; 14. 111-Steven Roberts; 15. 42-Doug Sanders; 16. B5-Brandon Sheppard; 17. 99M-Devin Moran; 18. 7-Josh Langley; 19. 28-Eddie Carrier Jr; 20. 20-Jimmy Owens; 21. 777-Jared Landers; 22. 00-Jeff Smith; 23. 60-Jeff Manka; 24. 09-Johnny Pursley
Race Statistics
Entrants: 27
Lap Leaders: Chris Ferguson (Laps 1 – 44); Jonathan Davenport (Laps 45 – 50)
Cautions: Jared Landers (Lap 18); Jimmy Owens (Lap 19); Eddie Carrier Jr., Scott Bloomquist (Lap 19); Josh Langley (Lap 32); Brandon Sheppard (Lap 40); Steven Roberts (Lap 46)
Lucas Oil Late Model Dirt Series Provisionals: none
Lucas Oil Late Model Dirt Series Emergency Provisionals: none
Miller Welders Fast Time Provisionals: Johnny Pursley; Jim Manka
Wrisco Feature Winner: Jonathan Davenport
Optima Batteries Hard Charger of the Race: Jonathan Davenport (Started: 11th; Finished: 1st; Advanced 10 Positions)
Midwest Sheet Metal Spoiler Challenge Point Leader: Jonathan Davenport
Allstar Performer of the Race: Chris Ferguson
Sunoco Race for Gas Highest Finisher: Jonathan Davenport
Rookie of the Race: Chris Brown
COMP Cams Engine Builder of the Race: Clements Racing Engines
Ohlins Shocks Chassis Builder of the Race: Longhorn Chassis
Outerwears Crew Chief of the Race: Jeremy Justice (Don O'Neal)
CV Products Fastest Lap of the Race: Jimmy Owens (Lap # 5 – 15.734 seconds)
Hot Rod Processing Most Laps Led: Chris Ferguson (44 Laps)
PFC Brakes Tough Break Award: Eddie Carrier Jr.
Time of Race: 34 minutes 28 seconds
---
Submitted By: Jeremy Shields
Back to News